SEE US LIVE!
WE PLAY BOTH PUBLIC GIGS AND PRIVATE EVENTS. KEEP UP TO DATE WITH OUR PUBLIC SHOWS HERE.
DON'T FREAK OUT... IT'S NEARLY CHRISTMAS!!
SATURDAY 7 DECEMBER 2019, 8-11PM
DIY SPACE FOR LONDON, 96-108 ORMSIDE SREET, SE15 1TF
Ho-ho-hooold up! It's about to be the most wonderful time of the year, and there's only one thing for it: DON'T FREAK OUT are putting on stellar night of Fun and Funk, complete with all the tinsel you could dream of!! But wait — there's myrrh... All profits will be going to Shelter to help support the homeless this winter. So put on your glad rags and get ready to Sleigh!!
TICKETS: £5 adv / £7 otd
DON'T FREAK OUT. IT'S ONLY A SIDE HUSTLE.
SUNDAY 2 JUNE 2019, 6-11PM
THE GEORGE TAVERN, 373 COMMERCIAL ROAD, LONDON, E1 0LA
An evening of funk + soul with DON'T FREAK OUT + friends. We'll be waving farewell to our wonderful bass player, Raj, and supporting a project he'll be undertaking with organisation Refugee Trauma Initiative in his time away.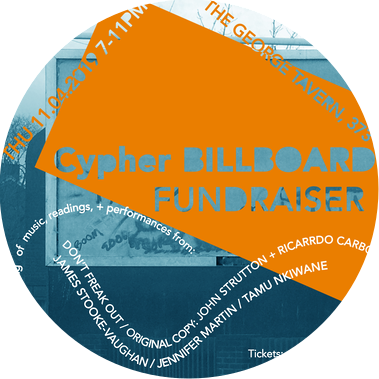 CYPHER BILLBOARD 2019 FUNDRAISER
THURSDAY 11 APRIL 2019, 7-11PM
THE GEORGE TAVERN, 373 COMMERCIAL ROAD, LONDON, E1 0LA
An evening of music, readings + performances from:
DON'T FREAK OUT / ORIGINAL COPY: JOHN STRUTTON + RICARRDO CARBONE / TAMU NKIWANE / ANDREW HART / JAMES STOOKE-VAUGHAN / JENNIFER MARTIN / + more tbc ...
SUNDAY 29 APRIL 2018, 5-11PM
GROW TOTTENHAM, ASHLEY HOUSE, N17 9LZ
Cypher Billboard is joining forces with Harry's Helpers to bring you a night of of musical fun[d]raising to get you sweating out a two-step; featuring bluesy-folk double-act COSKEYASS, soulful duo NEPO TEMKO, digi-soul outfit CL!VE, funkadelic troupe DON'T FREAK OUT, and DJs into the night for those serious about the boogie.