VIDS, PICS + TESTIMONIALS
HARD EVIDENCE OF THE GOOD VIIIIBES WE BRING, SHARED BY CLIENTS AND FRIENDS.
IF YOU HAVE PARTIED WITH US PREVIOUSLY AND WOULD LIKE TO SHARE A REVIEW, OR ANY PHOTOS TAKEN ON THE DAY, PLEASE DO GET IN TOUCH. WE'D LOVE TO HEAR FROM YOU.
ROB + LETTY'S WEDDING, SUFFOLK 2019
"Rob and I wanted to say a massive thank you for your amazing set on Saturday - we had a blast!
Honestly so many of our friends said that it was the best wedding band that they'd ever heard - and of course we agree.
One of the wonderful things about DFO is that everyone in the band seems to enjoy themselves so much - it's completely infectious. The first dance (sorry for our awkward dancing) was perfect too.
THANK YOU!"
Photo © Mitzi de Margary
DON'T FREAK OUT. IT'S ONLY A SIDE HUSTLE., LONDON 2019
"These guys really know how to party!"
Photo © Peter Ball
ZIGFRID VON UNDERBELLY, HOXTON 2018
Vocalist Selali Fiamanya takes the lead on Otis Redding's 1968 classic Hard to Handle, in a gig at Zigfrid von Underbelly in east London.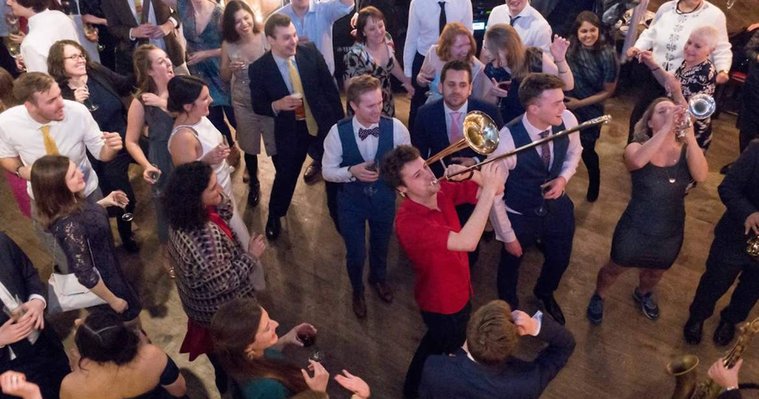 ALEX + JAYA'S WEDDING, LONDON 2018
"A huge thank you for everything on Saturday - we had the most amazing day, and you guys sounded incredible! What a sound!"
"I haven't danced like that since I was a teenager!"
THEATRE SEASON CLOSING PARTY, FRINTON-ON-SEA 2018
"You guys were mind-blowing. So much better than we could have ever imagined.
First dance was a highlight in an already superlative day."
LUCY + BEN'S WEDDING, WARWICKSHIRE 2018